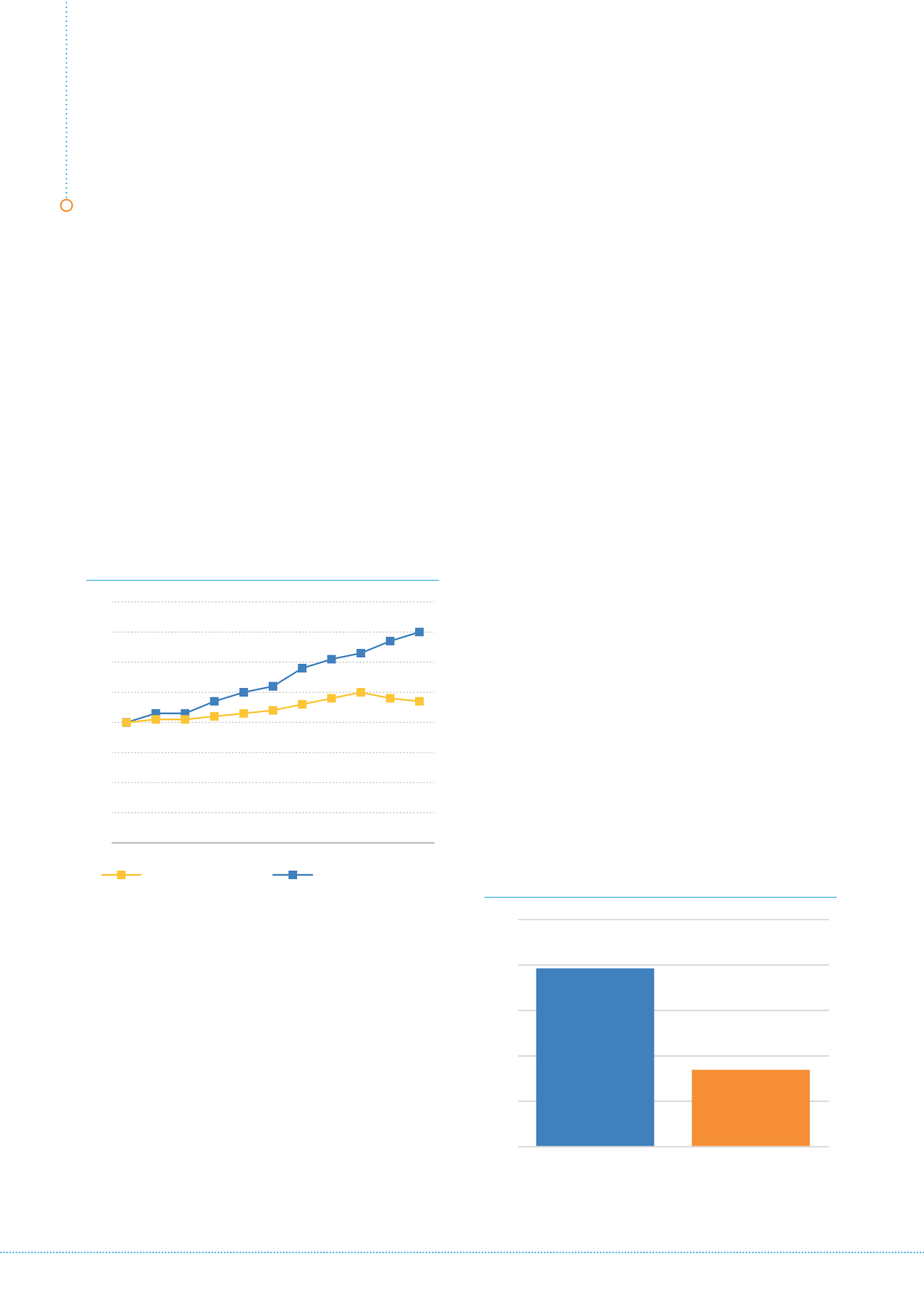 Europe keeps being the number one tourist destination, although its market share significantly decreased from
over 60% in 1990 to 51% in 2015. The European Union alone counted 478,4 million international tourist arrivals
in 2015, translated in a total share of 40,3%. In terms of international tourism receipts, the EU is second with
receipts amounted to 336,5 billion euros and rising at a lower level than the rest of the world, behind the Asia
and Pacific region with receipts of 377 billion euros in 2015. Third is the Americas with 273,7 billion euros, with
North America alone accounting for 214,9 billion euros.
2
Thanks to its leading role in the global tourism market, the hospitality sector is one of the key drivers of the
European economy, and European tourism, both in terms of employment as well as of direct contribution to
the economy. Together with tourism, the hospitality sector is the 3
rd
largest socio-economic activity in the EU.
Indeed, 1 in 10 enterprises in the European non-financial business economy belongs to the tourism industries.
3
The hospitality sector directly employs 80% of the total EU tourism workforce
4
, and counts all together
1,8 million enterprises, from which 9 out of 10 are micro enterprises, employing fewer than 10 people.
THE HOSPITALITY INDUSTRY'S
CONTRIBUTIONS TO THE EUROPEAN
ECONOMY AND SOCIETY
A strong driver for job creation :
2,5 million new jobs in the last decade
Due to its essential role for the European economy,
the industry is a particularly significant sector in
terms of employment. Hospitality businesses alone
provide for 10 million jobs directly, representing
4,7% of the total employment in the European Union.
Hotels, restaurants, bars and similar establishments
employed year by year 2,9% more people in the first
decade of the millennium, creating an additional
2,5 million jobs. In the same period, employment in
the overall economy was only growing by 0,7% every
year. Last but not least, the sector employs 16,6 million
workers including indirect and induced effects.
5
A sector providing jobs to the young
The sector is also strong for providing jobs to the
young. In the overall economy, the unemployment
rate of people older than 25 years amounted to
8,3% in 2015, while youth (aged below 25 years)
unemployment was of 20,3% in the EU.
6
Conversely,
while in the overall economy only 8,2% of the
persons employed are aged below 25 years, this
figure in the hospitality industry amounts to 19,6%.
7
These figures show the big potential of the sector in
fighting youth unemployment.
Youth employment (< 25 years)
H spitality sector
Part-time employment
Ov rall e onomy
35%
30%
25%
20%
15%
10%
5%
0%
Hospitality sector
Overall economy
25%
20%
15%
10%
5%
0%
Source : Eurostat
8
|
HOTREC - Report on the benefits of low VAT on job creation and competitiveness in the European Union
Index (2000=100)
60
70
80
90
100
110
120
130
140
2010
2009
2008
2007
2006
2005
2004
2003
2002
2001
2000
Hospitality Employment
European Employment
EU and hospitality employment index (2000-2010)
Source : EY report: The hospitality sector in Europe, September 2013