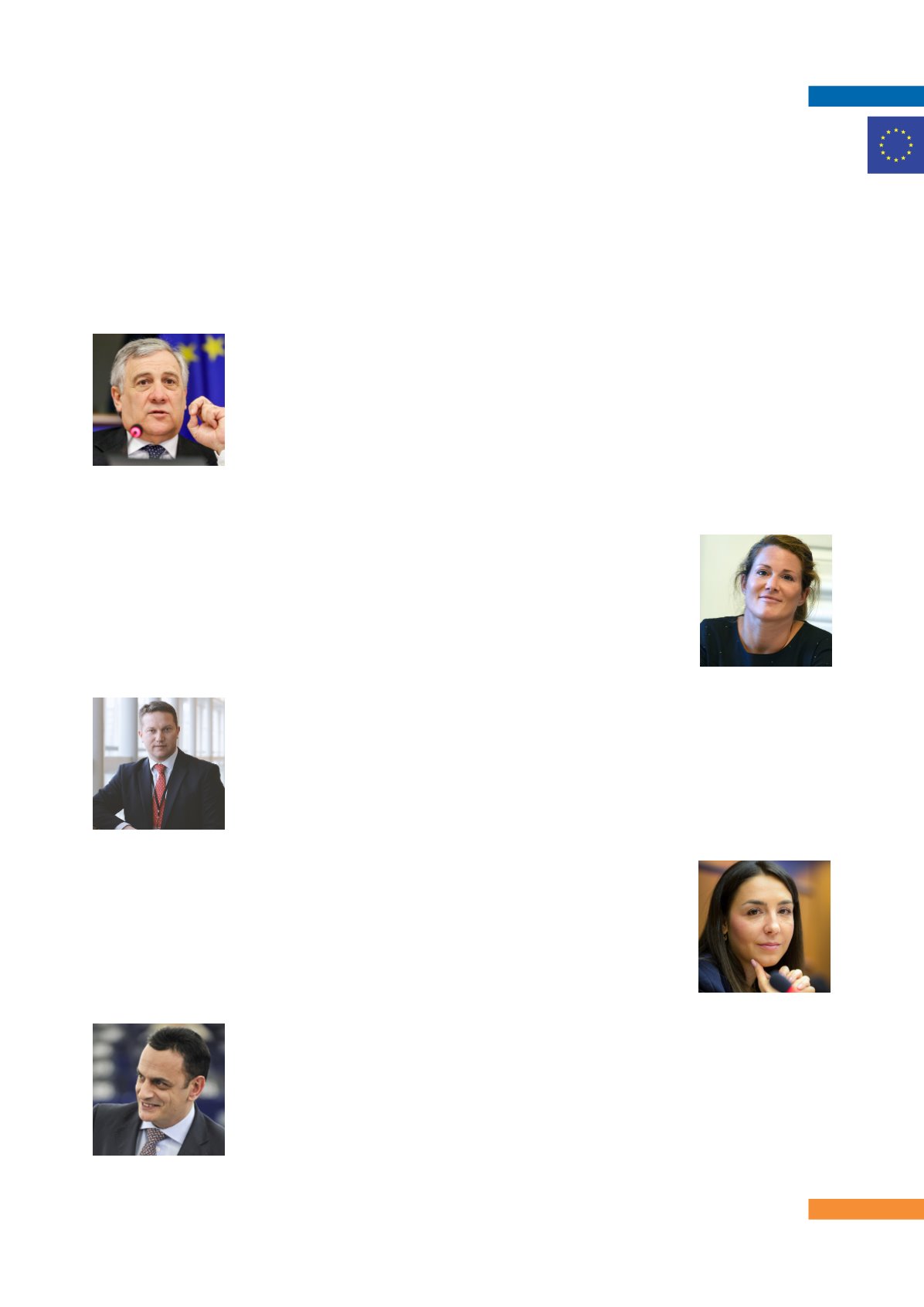 2014-2019 EU MANDATE:
5 YEARS OF INTENSE COOPERATION
WITH THE EUROPEAN PARLIAMENT
"Tourism is a major industry in Europe, an essential part of the mosaic that makes up
Europe's industrial fabric. It has spin-offs in the areas of trade, agrifoodstuffs, the cultural
and creative industries, transport, construction and shipbuilding. The travel and tourism
sector is one of our major job creators. In short, it is an industry that creates added
value throughout the EU, it makes Europe a global leader in international tourism and it
is 'the world's number 1 tourism destination'. As one of the main representatives of the
EU tourism industry, HOTREC's role in shaping the future of European tourism is key in
tackling the challenges this sector will undoubtedly face during the next term."
Antonio Tajani, President of the European Parliament
"I would like to thank HOTREC for fostering close cooperation and deliver constructive
efforts for a growing hospitality industry in Europe. The sector is of enormous importance
to our internal market and its consumers."
Member of the European Parliament, former Chair of the IMCO Committee
"After 5 years we put tourism policy together on its deserved place in the political arena.
With the clear policy and budget related position of the European Parliament we created
the possibility to have a stronger Tourism representation in the coming years. HOTREC
has a crucial role to maintain the constant development of Tourism industry."
István Ujhelyi, Member of the European Parliament, former Vice-Chair of the TRAN Committee
"HOTREC is an exemplary organisation that is constantly engaged in constructive debate
with decision-makers. They are effective and thorough. A pleasure to work with."
David Casa, Member of the European Parliament
"As Chair of the Tourism Intergroup in the European Parliament, I value HOTREC's
participation and immense contribution to the policy work related to tourism, taking often
leadership even on most challenging issues such as overtourism, as well as its extensive
and continuous work to push European tourism towards sustainability."
Claudia Tapardel, Member of the European Parliament, former co-Chair of the Intergroup on
European Tourism Development in the European Parliament
7
2019 EU elections
|
White Paper for Hospitality in Europe