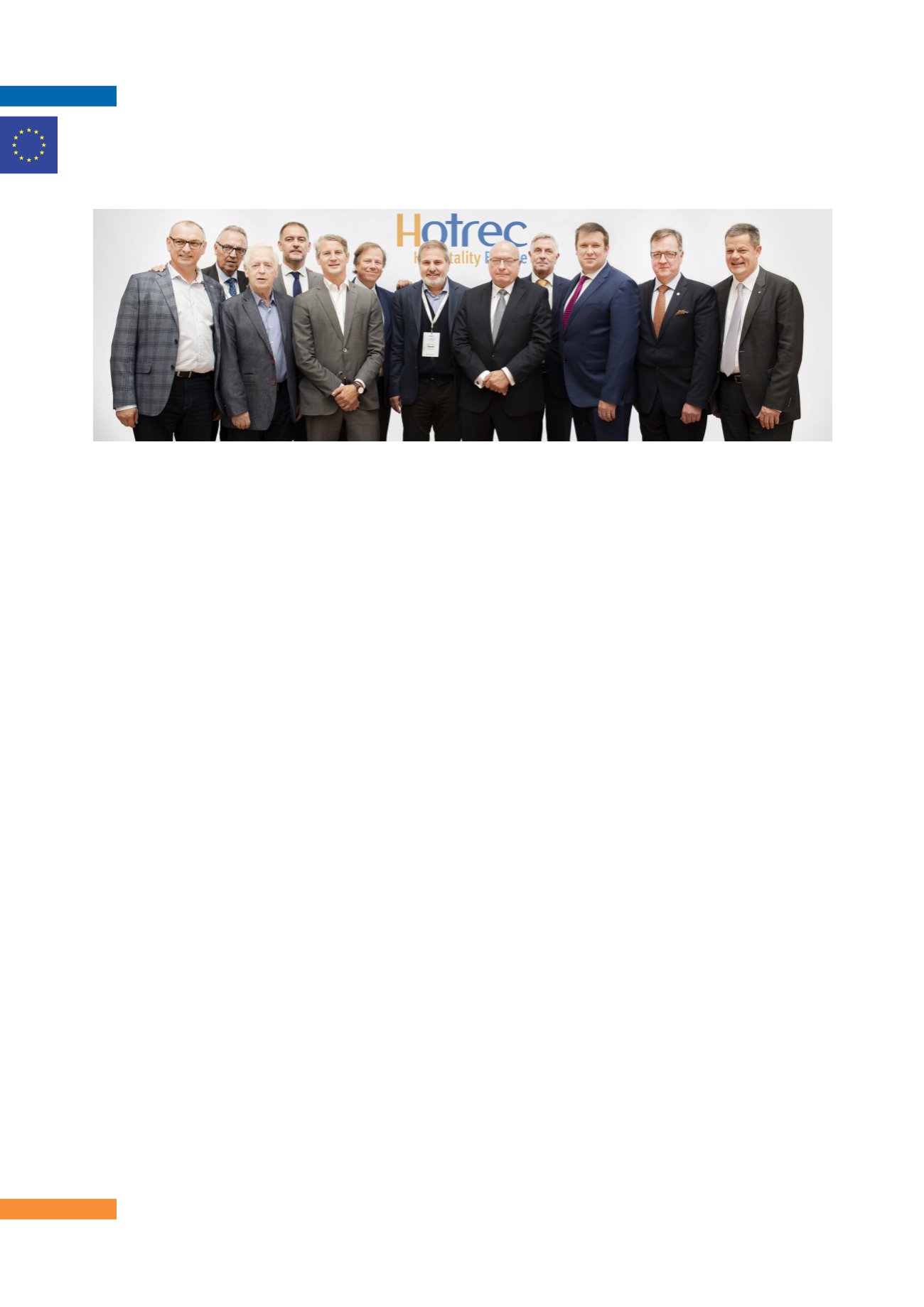 In a world of change driven by technology, in which tourist arrivals exceed 1 billion per year, the fast-evolving
digital economy has made online platforms the gateway to tourism development driving growth however often
in a disruptive and uncontrolled manner. With this White Paper, HOTREC calls on the EU Institutions to ensure
that online platforms commit to fair and transparent B to B and B to C relations, thanks to the implementation
of the platform-to-business relations Regulation and to the enforcement of the Airbnb commitments following
the call from the European Commission and EU consumer authorities in July 2018.
A new thinking on subsidiarity and exerting EU competences is needed to ensure that EU action focuses
primarily on truly cross-border issues, therefore making subsidiarity a must e.g. for social affairs. Furthermore,
the "Think Small First principle" shall prevail in the hospitality sector, of which 1,8 million enterprises are
microenterprises, making the goal of cutting red tape, and of providing the framework to Member States to
foster entrepreneurship a priority in support of innovation. With this White Paper, the hospitality industry also
calls on the EU Institutions to make the fight against the shortage of skills a key priority, also promoting flexible
working arrangements as a response to the specificity of the sector. Another major priority is sustainability.
To follow-up with actions taken within the circular economy to reduce food waste, and to improve energy
efficiency, HOTREC calls on the EU Institutions to support the industry to further develop voluntary initiatives
on healthy nutrition and lifestyles. With this White Paper, HOTREC also calls on the EU Institutions to tackle
overtourism and open a debate on its 5 recommendations to policy-and decision-makers.
Last but not least, ExCom calls on the EU Institutions to invest in big data to help better manage tourism flows,
not to forget the necessary investments to make it the industry of the future, e. g. by developing research on
artificial intelligence and blockchains.
HOTREC looks forward to working closely with the renewed EU institutions to build a better and sustainable
Europe.
HOTREC calls on the EU to make innovation
the cornerstone of sustainable tourism
Marc Van Muylders
Vice-President of HOTREC
Vice-President of HORECA Bruxelles
Jens Zimmer Christensen
President of HOTREC
President of Horesta Denmark
Adrian Cummins
Treasurer of HOTREC
CEO of Restaurant Association of Ireland (RAI)
Samuel Lacombe
ExCom Member
Vice-President of Groupement National
des Chaines (GNC)
Markus Luthe
ExCom Member
CEO of Hotelverband Deutschland (IHA)
Václav Starek
ExCom Member
President of The Czech Association
of Hotels & Restaurants (AHRCR)
Julian Bystrzanowski
ExCom Member
Vice-President Chamber of Commerce
of the Polish Hotel Industry (IGHP)
Ramón Estalella Halffter
ExCom Member
CEO of Confederación Española
de Hoteles y Alojamientos Turísticos (CEHAT)
Antonio Flamini
ExCom Member
Member of the bureau of
Federazione Italiana Pubblici Esercizi (FIPE)
Alexandros Vassilikos
ExCom Member
President of Hellenic Chamber of Hotels (HCH)
Morten Thorvaldsen
ExCom Member
Vice-President of Norwegian
Hospitality Association (NHO)
Joan Gaspart
ExCom Observer
Vice President of the European
Hospitality Foundation (EHF)
10
2019 EU elections
|
White Paper for Hospitality in Europe