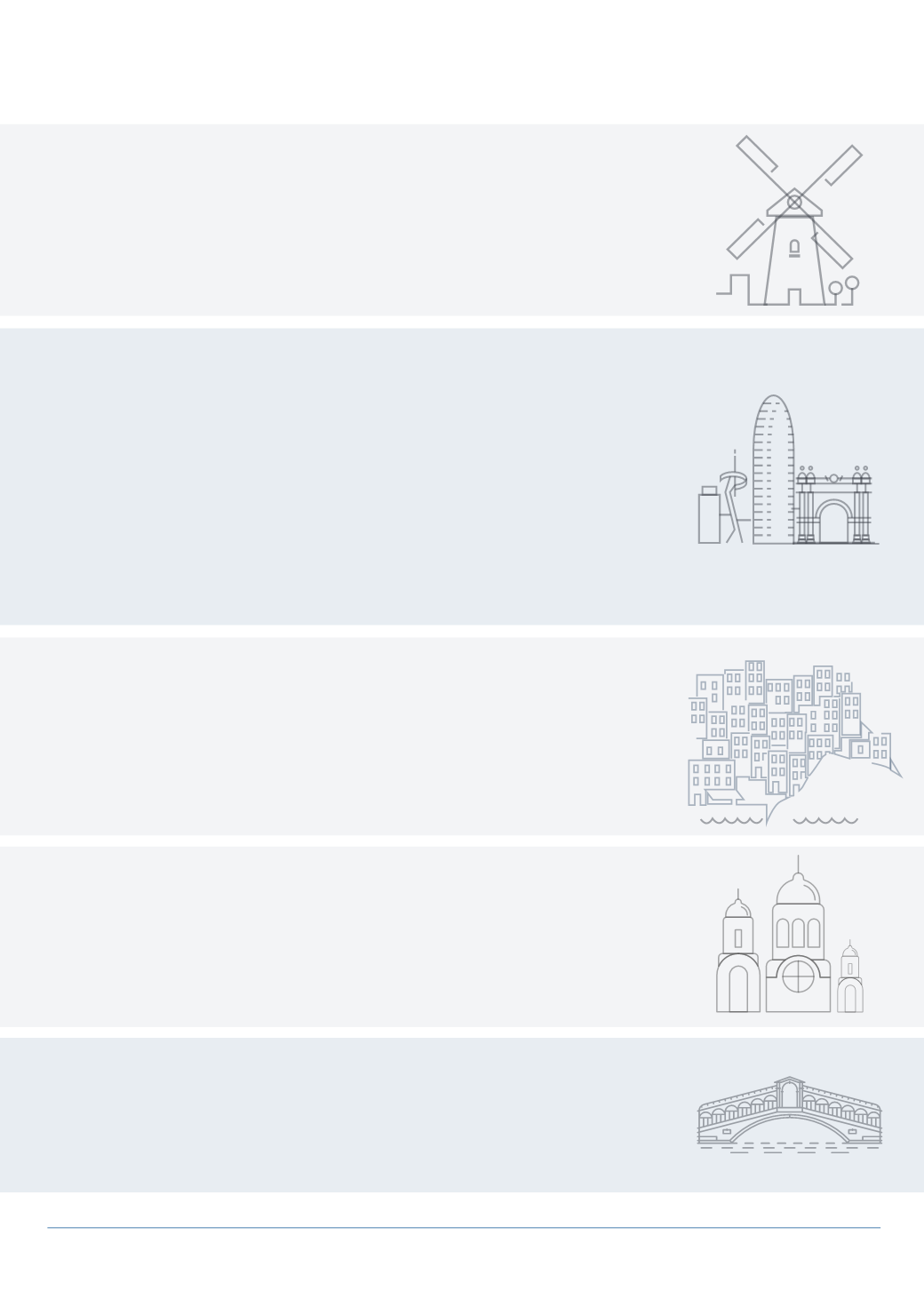 3
HOTREC POSITION PAPER ON OVERTOURISM – MAY 2018
EUROPEAN DESTINATIONS IN FOCUS
Amsterdam:
Therelativelysmall,historicanddenselypopulatedcityofAmsterdamhasexperiencedarapidrise
in visitor numbers (17marrivals in 2017), placing pressure on public infrastructure and provoking
opposition from local residents. In2015 thecitygovernment reachedanagreementwithAirBnB,
effectively legalising short-term rentals (STR), within certain limits. However, as property prices
have risen sharply, these limits have gradually been reduced. The city has also introduced
limits in the centre on hotel development, and on the spread of stores aimed only at tourists.
Barcelona:
Barcelona is frequently referenced in the debates on Overtourism. Between 2010 and 2016,
overnight stays in the city have increased by 27% (from 7.1 million to 9.1 million), however,
it is crucial that this does not take into account the estimated 30 million daily visitors per
year (hikers and cruise ship passengers). These visitors consider that the neighbourhoods
and places where residents live and work to be the best tourist spots in the city, which
results in a high concentration of people in a few places and at the same time. Nor does
it take into account stays in the 17,000 tourist residential properties rented through P2P
platforms such as Airbnb. The city has reached an agreement with the business platforms
to limit rents in the historic centre. There were certain violent movements, produced by
highly politicized radical groups, which have been rejected by all the inhabitants of the
city, including those who are affected every day by the great concentration of visitors.
Cinque Terre:
The five picturesque, UNESCO-listed villages that together make up the Cinque Terre National
Park have seen a steady influx of overnight and day visitors. Currently, an area with 4,000
residents now sees 2.4 million tourists per year. With only 3,000 beds available, the majority
of these are day-trippers. For this reason, in 2013 the Cinque Terre card was introduced
giving access to walkways connecting the villages. In 2017 limits were placed on the numbers
of cards sold per day, and an app was introduced indicating congested areas to avoid
1
.
Santorini:
The small island of Santorini in the Greek Cyclades saw almost two million visitors in 2017,
850,000 of those being cruise passengers who visit for a matter of hours. A limit of 8,000
cruise passengers per day has been imposed by the island's mayor
3
. In 2017 the issue of the
island's 'homeless teachers' made global headlines as new rules allowing STPAR caused
an affordable housing shortage, making local accommodation unaffordable for teachers
4
.
Venice:
Another often-cited city in the overtourism debate, Venice's overtourism challenges
have in recent years become characterised by the 'Ven-exodus', as local residents
leave for the mainland the city's population has halved over 30 years
5
. There is
particular concern about the impact of cruise passengers on the city, and public debate
has in recent years focussed on plans for relocating the city's cruise ship terminal.